Programs
WondersInvent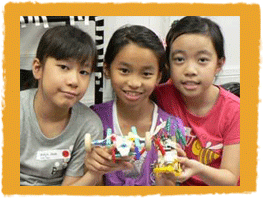 This program is suitable for children aged 7+ and above and it aims to nurtures young inventors and entrepreneurs of our future.

Lessons will be conducted in an activity-based and inquiry-based approach where students work in small teams to design, build, test, improve, and document creative projects that fulfill specific requirements. They construct their understanding as they fast prototype their inventions. Each child learns in his or her preferred learning style because the learning activities are students focused, not teacher driven.

Click here to find out more about this program.
WondersRobotic
We offer LEGO robotics programs for children from aged 5 and above. We aims to educate and equip children from young with essential skills in Science, Technology, Engineering, Art and Mathematics (STEAM) to become inventors and innovators. Some of the LEGO robotics kits that we offer are LEGO Mindstorms Nxt 2.0 and the latest Lego Mindstorm EV3, Lego Wedo, Wedo 2.0 and more. Click here to find out more about this program.
Corporate Events/Schools/Childcare
We also conduct our programs for corporate events, team building/team bonding, local and international schools, childcare centres, preschools, student care centres and more. Some of our clients are Marina Bay Sands Art Science Museum, Stamford American International School, Rosyth School, Fairfield Methodist Primary School, Mendaki, Hampton and more. Contact us at enquiry@wonderswork.com.sg for any enquiry.